Televic Conference Support

---
Recently viewed tickets
Log out
FAQ's
Video Tutorials
Software
Installation
Plixus
D-Cerno
IR
Tools
T-CAM
IP-CAM50
Introduction to Congressify
Access the Congressify application
To open Congressify, type http://localhost/ or replace "localhost" by the IP address of the computer where Congressify is installed.
Fill in your email address and password, as configured in CoCon (Meeting Manager) and click Login.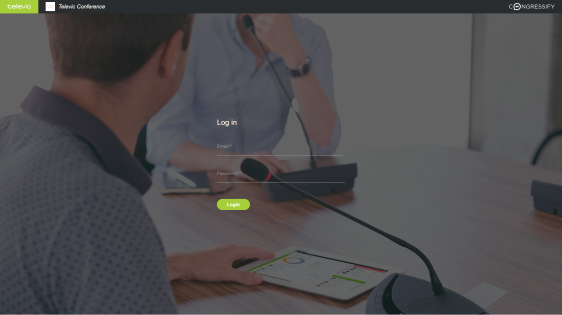 Figure 1-5 Congressify's login screen
When no meeting is active yet, you will get the message "You do not have active meetings" and you are unable to do anything in Congressify. In this case, the meeting needs to be activated in the CoCon Operator Application.
Log out of Congressify
Click on your image in the top right corner of the application and select Log Out. Click Yes to confirm.
Users
There are three different types of Congressify users:
Admin: this user has administrator permissions and can configure and change Congressify settings.
Delegate: this user can only use Congressify, this means that he or she can read the meeting related information and he can also request to speak. You need to create this type of user in CoCon.
Chairman: This user has the same rights as a delegate, in addition the chairperson has the right to manage the meeting, the agenda, and the speakers. You also need to create this user in CoCon.
Congressify and CoCon
Congressify is an application which allows the participants to view the meeting information on their own device. You can only view information and manage speakers in Congressify. To configure the meeting and the delegates you need CoCon.
Prepare meeting in CoCon
Create a meeting in the CoCon Meeting Manager application with the delegates that will participate in the meeting. Per delegate you will need to specify an email address and a password, which the participant can then use to log in to Congressify. You will also need a synoptic, where you assign the participants to the seats in this synoptic.
If you want to use voting and see voting results in Congressify you will have to add a Voting Agenda item in the Meeting Manager. When the configuration is ready, prepare the meeting in the Operator application to be able to see it in Congressify.
For a detailed description on how to configure meetings and delegates in CoCon and CoCon Core, see the respective user guides.