Televic Conference Support

---
Recently viewed tickets
Log out
FAQ's
Video Tutorials
Software
Installation
Plixus
D-Cerno
IR
Tools
T-CAM
IP-CAM50
Install Congressify
Before you can install Congressify, you first need CoCon or CoCon Core. Congressify needs the CoCon database to function, because it simply displays the information that is available in CoCon (Core) in the Congressify application.
The computer running CoCon should meet the following criteria:
CPU : i3 to i5
Windows 7 to 10 32-bit, and 64-bit
.NET Framework 4.5.2
RAM: minimum requirement of 4 GB, 8 GB is recommended
HDD free space: 20 GB
Install the Congressify application
Follow the procedure below to install the Congressify application on your computer:
Download the latest version of Congressify here https://www.televic-conference.com/en/software-updates.
Run the Congressify.exe file to start the installation.
Follow the instructions of the wizard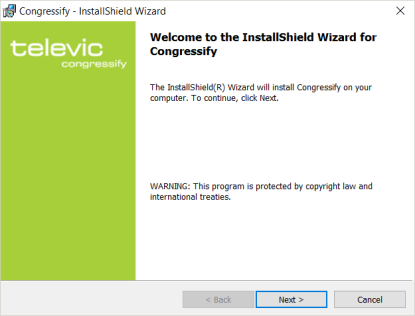 Click Next.
Select the Destination folder and click Next.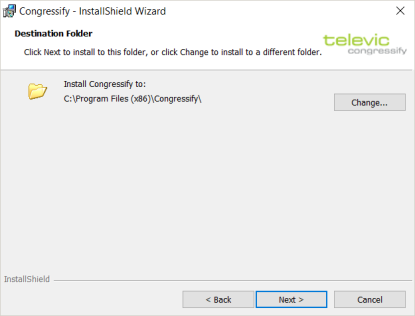 Click Install to start the installation process.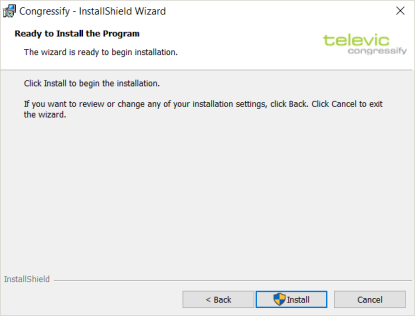 When the installation is ready click Finish.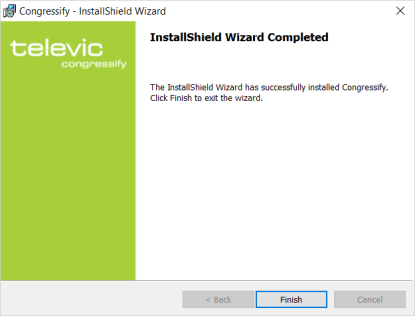 Manage Congressify licenses
New license
To obtain and install a new license follow these steps:
Apply for a new license on the Televic website (https://www.televic-conference.com/en/software-license-request), specify the requested parameters such as the MAC address of the Plixus engine.
You will get a notification when the license file is ready.
Open Congressify (here you will get a notification that there is no valid license). To activate the license right-click the Congressify icon in the task bar and select Settings.
Go to the Configuration page and click Validate License.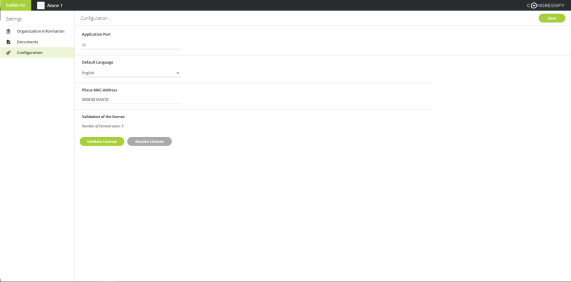 Figure 1-3 How to validate a license in Congressify
You need an active Internet connection to be able to activate the license.
License process to Change the amount of licensed users
It is possible to change the number of licensed users. Notify Televic Conference by mail with the amount of users you need. When you get the notification that the license is available go to the Configuration page of Congressify.
First revoke the current license and then Validate the new license.
It is not possible to lower the amount of licenses.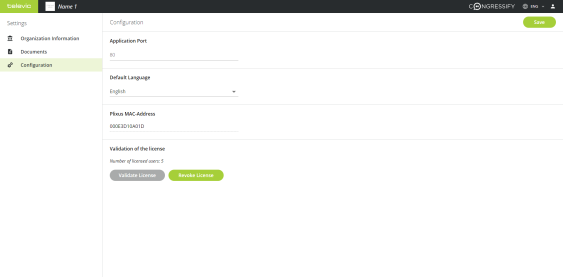 Figure 1-4 How to revoke a license in Congressify
License process to change the computer
When you want to change the computer where CoCon is running, you need to revoke the Congressify license on the old computer and validate it on the new one.
License process for changing the engine
When you want to change the Plixus engine, you need to change the license because the new engine has a different MAC address which is tied to the license activation. Provide Televic Conference with the new MAC address.
When you get a notification that the new license is ready, revoke the old license and then validate the new one on the Configuration page.