Televic Conference Support

---
Recently viewed tickets
Log out
FAQ's
Video Tutorials
Software
Installation
Plixus
D-Cerno
IR
Tools
T-CAM
IP-CAM50
Install the cameras and video switcher
The diagram below shows how the different components needed for the T-CAM package are connected. The interconnections are explained in detail in the next paragraph.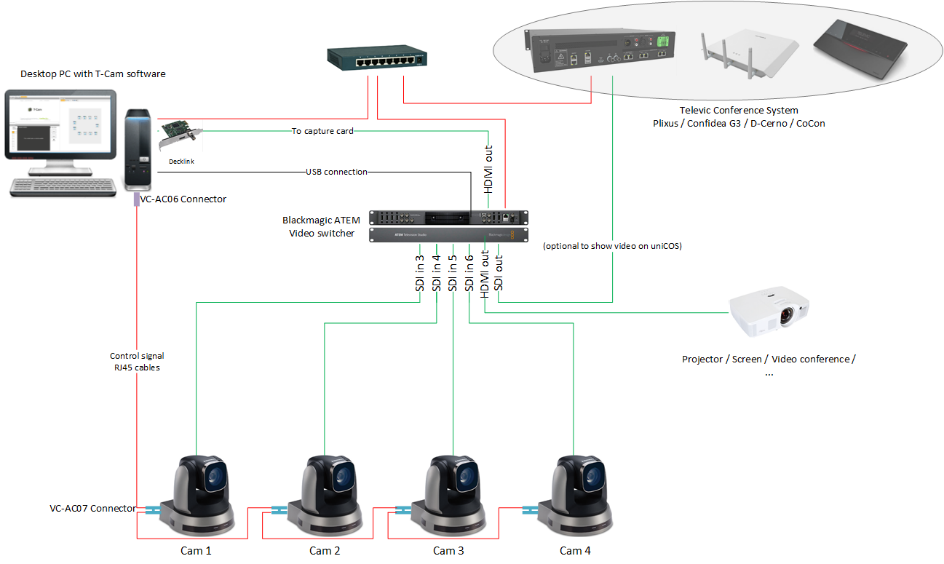 Figure 1-1 Principle connection diagram
Camera installation and connections
All cameras must have the same resolution and must match the ATEM resolution. The dipswitch setting for the available resolutions can be found in the table below. See also sticker on bottom of the cameras for available settings
Legend: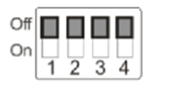 | Output Mode | Settings |
| --- | --- |
| 1280×720/50p | |
| 1280×720/59.94p | |
| 1920×1080/50i | |
| 1920×1080/59.54i | |
The VISCA protocol must be set on 9600 baud rate on the cameras. (Default setting)
As can be seen on the main diagram, the control signal coming from the PC is linked in daisy-chain to each camera.
Connect the PC serial port with the VISCA daisy chain by using the VC-AC06 cable.

On laptops, a serial-to-USB convertor might be required, this is not included in the package).

To connect the cameras, use the VC-AC07 cables.

The RJ45 CAT 5e cables between the VC-AC cables are not included.
After connecting the cameras, make sure the addresses are set correctly with the rotary switch on the back of the camera. The first camera after the PC is camera 1, second will be camera 2 and so on.
Plug in the cameras to the ATEM Television Studio via SDI:

Camera 1 to IN 3 SDI
Camera 2 to IN 4 SDI
Camera 3 to IN 5 SDI (optional)
Camera 4 to IN 6 SDI (optional)

ATEM Television Studio HD via SDI

Camera 1 to IN 5 SDI
Camera 2 to IN 6 SDI
Camera 3 to IN 7 SDI (optional)
Camera 4 to IN 8 SDI (optional)

Connect the ATEM Prog SDI or Prog HDMI to the PC or USB capture card to have the image on the PC and/or to an another output device (screen, projector, video conference, Plixus multimedia engine, …).