Televic Conference Support

---
Recently viewed tickets
Log out
FAQ's
Video Tutorials
Software
Installation
Plixus
D-Cerno
IR
Tools
T-CAM
IP-CAM50
About CoCon
CoCon is Televic Conference's complete software solution for the
configuration and management of your meeting
. CoCon consists of different applications, which are available through different
license models
. Which applications you need, depends on the conference functions you require. For example if your meeting is multilingual, then you need the Interpretation application to configure the languages of your meeting. Or use the Video application to route the video streams used in your meeting.
CoCon architecture
The image below shows the architecture of CoCon and its applications, and the relation with the Plixus engine and Plixus Core.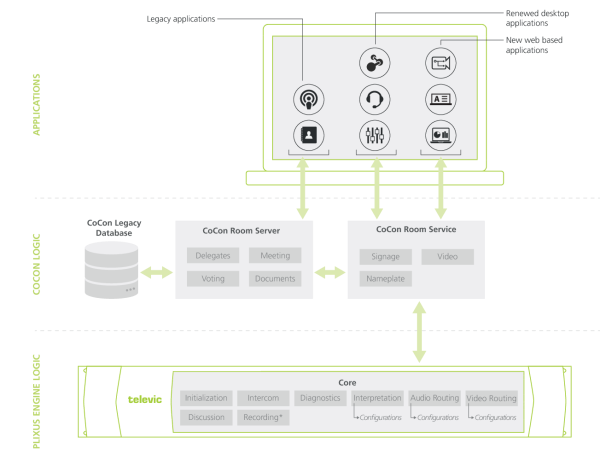 Figure 1-1 CoCon architecture and relation to Plixus Core (* Recording is only possible with a Plixus AE-R)
There are three types of applications:
the legacy desktop applications:

Operator application
Meeting manager

The renewed desktop applications: new interface

Room Configurator
Interpreter application
Audio application

The new web applications: hosted on the Room Service. All configuration goes through a web interface.

Nameplate manager
Signage application
Video application
Plixus Core allows the Plixus engine to run independently of a computer. You can configure different settings of the Plixus engine using the web server. For more extensive configuration you need CoCon, for example for custom audio routing, combining booths or to create video routing configurations. When you create the configurations for interpretation, audio routing and video routing, these are stored in Plixus Core and the engine can access them without using CoCon.
The new CoCon gradually migrates to a new architecture where the old CoCon Room Server (which is a Windows application) is replaced by a CoCon Room Service (which is a Windows service). Currently, you need to install and run both, to use all CoCon applications. The Room Service is now the direct interface between Plixus Core and the redesigned applications:
The Room Server is still the interface for the Operator application and the Meeting Manager. They still communicate with the legacy database. This means that all functionality is still available, but a part of it runs embedded (Core) and a part of it runs on the Room Server.
All client applications still benefit of the client-server architecture that was already available.
CoCon versus Plixus Core
Plixus Core allows you to run and use different conference functions independent of a computer. You can configure these settings using a web server which you access by navigating to the IP address of the Plixus engine. The table below shows you which functions are available in Plixus Core and which you can configure in CoCon:
Plixus Core and its web server provide the option to configure and control the basic features and functionality from the Plixus system.
CoCon is the software suite that allows extensive configuration of different conference settings. Some features such as audio routing and video routing, need configuration in CoCon, but once configured these settings reside on the Plixus engine, and do not require a computer anymore to access and use them.
Functionality supported in Plixus Core

Functionality supported in CoCon

Initialization

Initialize units, assign chairman units, create booths, assign nameplates to units

Discussion

Select microphone mode, number of open microphones
Adjust audio parameters (dynamics, loudspeaker volume, auto gain reduction)
Operator control (activate/deactivate microphones) without synoptic view

Interpretation

Basic interpretation configuration for floor up to 11 languages
Select one of the available interpretation configurations

Audio Routing

Select one of 3 basic routing configurations
Automatic routing to Dante

Video Routing

Select the default configuration or one of your custom configurations

REST/JSON API - Camera Protocols

Enable/disable API or camera protocols

Room Configurator

Create synoptics, create booths

Meeting Manager

All meeting functionality (delegates, agenda, timers, etc.)

Operator Application

All operator functionality with synoptic view

Signage Application

All Signage functionality

Interpreter application

Assign languages, create, edit, and clone configurations and save them on Plixus Core, monitor interpreter activity, send messages

Audio Application

Create, edit and clone configurations and save them on Plixus Core, create input and output groups of seats, Dante, languages and auxiliaries

Video Application

All video functionality: create, edit and clone configurations and save them to Plixus Core, create request and talking heads input groups and output groups of Video-OUT boxes and Lingua ID MM

Nameplate application

All Nameplate functionality