Televic Conference Support

---
Recently viewed tickets
Log out
FAQ's
Video Tutorials
Software
Installation
Plixus
D-Cerno
IR
Tools
T-CAM
IP-CAM50
Introduction to the video application
Using the video application you can configure
what devices inject video into your setup
which stream contains which video input
which devices display which video stream.
All these settings you can combine in a video configuration. CoCon stores all these configurations on the engine. In the Plixus web server, you can select which video configuration to use. For more information on how to select the video configuration on the Plixus engine, see the Plixus user guide.
An overview of the video application
Below you can find an image of the video application and the different settings you can find and configure.
On the left you can find all available video configurations. The green dot indicates the active configuration. The Default configuration, which is available upon installation, has the icon next to it.
The 6 available video streams, you can change the name of each video stream. Per video stream you can select to make the stream available for delegates on their unit.
On the left of the routing matrix, you can see all configured input groups
On the right of the routing matrix you can find all configured output groups
In the center you can find the actual routing matrix, here you route the input to one selected output group
The video application automatically saves all changes.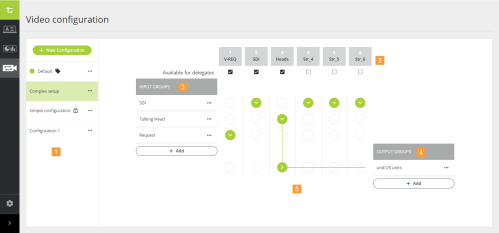 Figure 1-76 The CoCon Video application
The default configuration
Upon installation of CoCon, one configuration is available by default. This configuration has the name Default and has the default icon

next to it. It is not possible to edit or delete this configuration. The default configuration contains one input group that contains the SDI-IN of the Plixus engine. The configuration routes the SDI input to the output group all selectors. This group contains all Video-OUT (V-OUT) boxes and Lingua ID MM present in your Plixus network.
This configuration is always present, even if you do not have a license for video routing. If you want to use this configuration and change some setting, you need to duplicate it.