Televic Conference Support

---
Recently viewed tickets
Log out
FAQ's
Video Tutorials
Software
Installation
Plixus
D-Cerno
IR
Tools
T-CAM
IP-CAM50
Configure video inputs
The video input is the video content that is available in your Plixus system. The video input can have different sources:
SDI
Video-IN (V-IN) box
Webcam of a multimedia unit
Video request
You can use the Plixus V-In boxes in 2 ways.
You can assign the V-In box to one of the 6 video streams. The content is then always available on the multimedia units. In this case, you create a Normal group containing the V-IN box. Add a Normal group per V-In box
You can create a group of V-In boxes. Then you assign the group to one of the 6 video streams. The video of the person who presses the request button on their Video-REQUEST (V-REQ)panel is then routed to the video stream. When no one presses the V-REQ, the backup video source is shown. For this scenario, you need to add the V-In boxes to the Request group. You can only have one Request group.
Talking heads
When there are units that have an integrated camera, you can add these to the Talking head input group. The webcam of the unit becomes active when the delegate activates the microphone. The assigned video stream then displays the video content of the webcam. When no microphone is active you can set a backup video source.
Add input groups
In the video routing matrix, you can find all available input groups on the left. To add a new input group click Add on the bottom of the Input group list. A popup appears where you need to define the following parameters:
Name: define a unique name for the input group
Type: select the type of input group, there are three options
Backup: select the backup video source to use when the video source of input group is inactive.
All video inputs: a list with all available input sources. This shows the type of device with the seat number
Video inputs for group: all input sources added to the group
Use the controls between All video inputs and Video inputs for group to add and remove input sources from the group. Click Save to add the input group.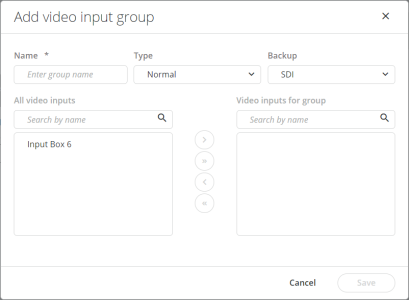 Figure 1-77 How to create input groups in the Video application
Edit input groups
To edit an input group click the more icon

next to the group and select Edit. You can change all input settings, and add or remove input sources from the group.
Delete input groups
To delete an input group click the more icon

next to the group and select Delete