Televic Conference Support

---
Recently viewed tickets
Log out
FAQ's
Video Tutorials
Software
Installation
Plixus
D-Cerno
IR
Tools
T-CAM
IP-CAM50
Introduction to Audio Routing
The Audio application is the CoCon application for the configuration of your audio routing settings. In the Audio application you can perform the following actions:
Create groups of audio input and output components (microphones, auxiliary input/output, Dante input/output, …)
Visualize the routing as a matrix
Control the audio routing matrix
The combination of these settings forms an audio configuration. This configuration includes the following settings:
A set of audio routing input groups
A set of audio routing output groups
A matrix resulting from the previous two data-sets, and the settings of this matrix.
Understand the interface
The Audio application consists of a single page that contains all functionality. There are three different sections, where you can view and edit audio routing information. The image below shows the three different types of information and functions that are available in this application.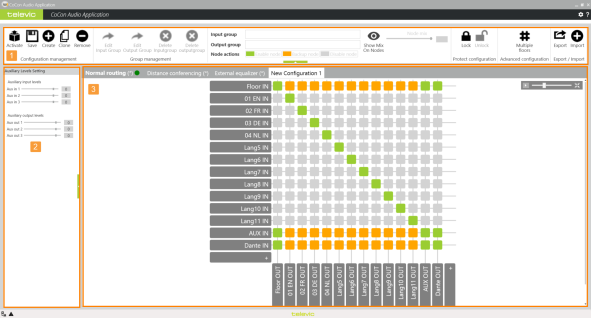 Figure 1-73 Audio routing overview
The ribbon

Contains all direct control for the audio configurations and the matrix. You can also select nodes using the INPUT and OUTPUT group field.
Auxiliary levels settings

These values correspond to the auxiliary settings configured on the Plixus web server (Audio routing page).

Configuration and routing matrix

This is the main part of the application and gives a visual representation of the audio routing
Default configurations
Each Plixus system contains three default audio routing configurations. These are always available and you cannot alter these configurations. The following configurations are available:
Normal routing: no additional routing
External equalizer: This adds an external signal, using AUX IN, to the local floor signal and sends the local floor signal, using AUX OUT, to a remote party, for example sitting in a different room.
Distance conferencing: This option allows you to add an external signal processing equipment or a mixing board.
If you want to make adjustment to these configurations, you need to clone the configuration of your choice and then change the settings in the cloned configuration.