Televic Conference Support

---
Recently viewed tickets
Log out
FAQ's
Video Tutorials
Software
Installation
Plixus
D-Cerno
IR
Tools
T-CAM
IP-CAM50
About Lingua IR
Concept and design
Lingua Infrared (IR) is Televic Conference's wireless solution for language distribution using infrared. You can combine this system with Plixus engines or another third-party system to feed the floor and interpreter audio to the Lingua IR. Link this audio source to the Lingua IR transmitter through a Dante™ connection.
The transmitter will send the audio signal to the radiators inside the room. The radiator will then send the audio signal as infrared radiation to the receivers present in the room. These will then convert the radiation back into an audio signal. Finally, with the receiver the participant can use which languages they wish to hear.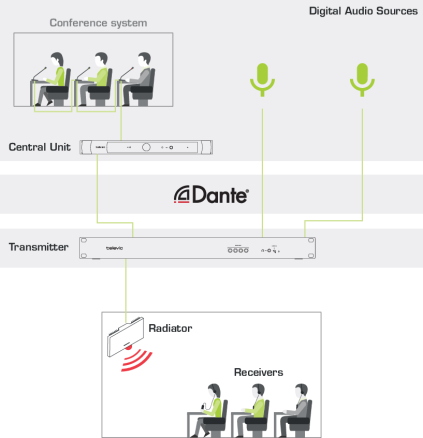 Figure 1-1 A typical Lingua IR setup where one ore more audio sources (such as a conference system) are used to feed audio into the infrared system. Participants present in the room can listen to the audio they want using the receivers that pick up the infrared radiation.
Lingua IR consists out of four parts:
Lingua T (transmitter): accepts the audio signal from the conference system (for example Plixus) and transmits the signal to the radiator(s). By default you can transmit up to 6 channels, however additional licenses are available to transmit 12 (Lingua L12) or 40 channels (Lingua L40).
Lingua RAD_H (radiator): distributes the signal throughout the conference venue.
Lingua Rx (receiver): allows attendees to select the language they want to hear the speaker in. Three variants are available to receive 6, 12 or 40 channels.
Lingua CHC (charging case): case to charge and transport receivers in.