Televic Conference Support

---
Recently viewed tickets
Log out
FAQ's
Video Tutorials
Software
Installation
Plixus
D-Cerno
IR
Tools
T-CAM
IP-CAM50
Power supply design
Power availability and consumption table
Power availability

Plixus MME total power supply
500 W (400 W available for Plixus ports)
Plixus AE-R power supply
220 W

One single Plixus port allows

100 W (engine ports or extension ports)
Maximum power consumption

71.98.0105 - 71.98.0118

71.98.0501 - 71.98.0515

Confidea F/T
5 W

71.98.0551

Confidea CS
2 W

71.98.2002

uniCOS F-MM7

12 W (1 USB port)

+ 2.5W when using second USB

71.98.2001

uniCOS F-MM10

15 W (1 USB port)

+ 2.5W when using second USB

71.98.2003

uniCOS T-MM10

15 W (1 USB port)

+ 2.5W when using second USB

Plixus NEXT
7 W

71.98.2004

uniBOX

11.3 (1 USB port)

+ 2.5W when using second USB

71.98.2100

Lingua Interpreter Desk - Audio only
11 W

71.98.2101

Lingua Interpreter Desk - Video
12 W

71.98.2920

Video-IN box
6 W

71.98.2922

Video-OUT box

5.5 W

71.98.0033

Confidea WCAP

10 W

71.98.2051

Plixus Nameplate

4 W

Maximum distance between units
100 m (signal regenerated in every unit)

Minimum required voltage per unit

36 V
The general rule states that you should use a maximum 20 delegate units per branch / loop.
Plixus AE-R power supply
The Plixus AE-R does not have an internal power supply, however it does have two power connectors. By default you get one power supply together with the engine. You can extend this power supply with another as redundancy or when the system requires more power.
To check how many power supplies you require, consult the flowchart shown below.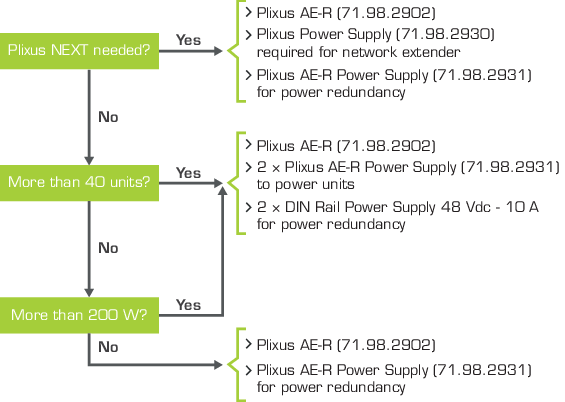 Figure 1-31 How to decide to need an additional Plixus AE-R power supply
Calculator tool
The Plixus Power Calculator Tool allows to you to validate a configuration in more detail. It takes into account the network cable lengths, power cable lengths and the different types of equipment.
The Plixus Power Calculator Tool can be easily found on the Televic Partner Domain.
Regardless of the calculator values, the maximum values above still apply. If more units, more power or a larger length is needed, then you need to create a separate branch using a Network Extender.