Televic Conference Support

---
Recently viewed tickets
Log out
FAQ's
Video Tutorials
Software
Installation
Plixus
D-Cerno
IR
Tools
T-CAM
IP-CAM50
Configure audio settings
It is possible to configure different audio such as the sensitivity of the microphone. Select
Audio
from the menu to see these settings. The settings are grouped into three categories:
General
,
AUX IN (1)
and
AUX OUT(1)
.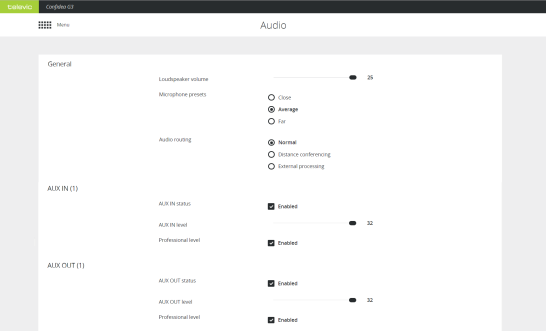 Figure 1-18 Configure Plixus audio settings in the webserver
General audio settings
You can configure the following general audio settings:
Parameter

Description

Loudspeaker volume
Define the volume of speaker of the units.
Microphone presets

Configure the sensitivity of the microphone. This setting depends on:

The distance of the delegate to the microphone.

Volume of external loudspeakers (if present). A combination of a Far microphone preset together with high external loudspeaker volume or external loudspeakers positioned close to the microphones can cause acoustic feedback.

External compressor limiter device : in this case Microphone preset must be set to Close, to allow maximum adjustability on the external compressor-limiter device (see also AUX control settings).

Audio routing

None: no additional audio routing is done.


Distance conferencing: this adds an external signal, using AUX IN, to the local floor signal and sends the local floor signal, using AUX OUT, to a remote party, for example sitting in a different room.


External processing: this option allows you to add an external signal processing equipment or a mixing board.

AUX IN settings
The Confidea G3 WCAP has one auxiliary input. You can configure the following AUX IN settings:
Parameter

Description

AUX IN status
Switch the input on or off
AUX IN level
Adjust the volume of the input
Professional level

Two input level ranges are possible:

Off (= Consumer level) : nominal level -10 DBV , max input level +10 dBV
On (= Professional level) : nominal level +4 dBu , max input level +24 dBu

The professional level setting should be the same for the AUX IN and AUX OUT
AUX OUT settings
The Confidea G3 WCAP has one auxiliary output. You can configure the following AUX OUT settings:
Parameter

Description

AUX OUT status
Switch the output on or off
AUX OUT level
Adjust the volume of the output
Professional level

Two input level ranges are possible:

Off (= Consumer level) : nominal level -10 DBV , max input level +10 dBV
On (= Professional level) : nominal level +4 dBu , max input level +24 dBu

The professional level setting should be same for the AUX IN and AUX OUT