Televic Conference Support

---
Recently viewed tickets
Log out
FAQ's
Video Tutorials
Software
Installation
Plixus
D-Cerno
IR
Tools
T-CAM
IP-CAM50
Introduction to the web server
Compatibility
The web server is compatible with different types of mobile and desktop devices.
Some of the web server's functionality may be blocked by security software installed on your computer.
Quick start to the application
After you enter the IP address of the WCAP in the address bar of your browser, you will see the screen displayed below. On the Home screen you get a quick view of the configuration of the most important settings. These settings are divided into two groups (1): Conference information and Network information. The Conference information contains all items related to the actual conferencing, while the Network information contains all information related to network configuration of the WCAP.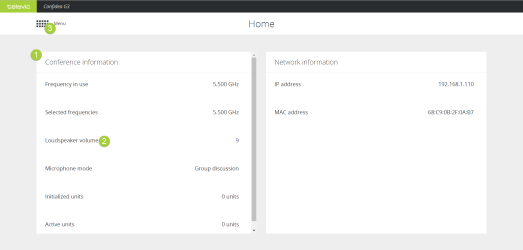 Figure 1-14 The web server's home page.
You can click one of the settings name (2) to go to its configuration page. When you click the Menu icon, you will see all available features that you can configure.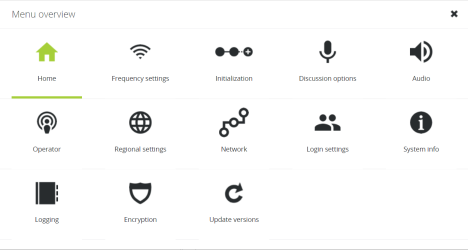 Figure 1-15 Web server menu
The following menu items are available, the table below gives a short description of every item.
| Icon | Menu item | Description |
| --- | --- | --- |
| | Home | Returns to the home screen. |
| | Frequency settings | On this page you can choose a frequency from an overview of all available frequencies and their signal strength. |
| | Initialization | Place in the web server to define and configure the delegates linked to the WCAP. |
| | Discussion options | Configuration of discussion options such as microphone mode to define when the microphone is active. |
| | Audio | Configuration of different audio options together with the configuration of the AUX IN and AUX OUT. |
| | Operator | See who is speaking, requests to speak and manually activate or deactivate microphones of delegates. |
| | Regional settings | Configuration of language and region. |
| | Network | IP configuration and configuration of the camera protocol. |
| | Login settings | Change user name and password. |
| | System info | Device and system information. You can upload your CoCon license here. |
| | Logging | Contains all the systems logging. |
| | Encryption | Configure the encryption settings. |
| | Update version | Update the WCAP and delegate units. |