Televic Conference Support

---
Recently viewed tickets
Log out
FAQ's
Video Tutorials
Software
Installation
Plixus
D-Cerno
IR
Tools
T-CAM
IP-CAM50
Microphones
Introduction
Use the Confidea-D MIC30SL (30 cm) - D MIC40SL (40 cm) - D MIC50SL (50 cm) removable microphones with the different delegate and chairman units. This microphone ha a unidirectional response for optimum performance even in noisy conditions, and has a very low susceptibility to RF-interference from mobile phones.
Electrical and acoustic properties
Parameter

Value

Transducer type
Back electret (condenser)
Operating principle
Pressure gradient
Polar pattern
Uni-directional, cardioïd
Nominal impedance
Bias resistor = 1k2
Vdd = 3.3 V DC,
SPL = 1Pa
Max.SPL at 1 kHz
110 DB SPL (1% THD+N)
Signal to noise ratio
>67 dB(A)
Free field sensitivity
9.4 mV/Pa, ±3 dB @ 1 kHz or
(-40.5 dB, 0 dB = 1 V/Pa @ 1 kHz)

Power supply

3.3 V DC, 0.5 mA

Consumption
0.5 mA (without LED ring);
max. 25 mA (with illuminated ring)
Microphone connector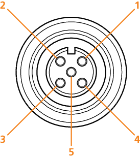 Figure 1-10 Microphone connections
pin 1 : microphone GND
pin 2 : microphone signal
pin 3 : unused
pin 4 : LED +
pin 5 : LED –
Operation
The microphone contains the following elements.
Indicator ring: shows the status of the microphone
Union nut: attaches the removable microphone to the unit
Microphone plug: connects the microphone to the unit
The color of the microphone indicator ring shows the status of the microphone.
| Color | Condition |
| --- | --- |
| Red (on) | Microphone active |
| Red (blinking) | Last minute of speech time (if set via software) or Speech request (if set via software) |
| Green (on) | Microphone is initialized |
| Green (blinking) | Microphone request |