Televic Conference Support

---
Recently viewed tickets
Log out
FAQ's
Video Tutorials
Software
Installation
Plixus
D-Cerno
IR
Tools
T-CAM
IP-CAM50
Wireless Conference Access Point (WCAP)
Introduction
All communication to and from the wireless units is controlled by the WCAP.

Figure 1-2 How to attach the antennas to the WCAP
Installation
Wall Mounting
The WCAP can be mounted on the wall by means of the 2 fixing holes at the bottom of the device. To prevent accidents from happening, attach the device to the wall in accordance with the installation instructions.

Figure 1-3 How to mount the CoCon WCAP to a wall
Tripod Mounting
The WCAP can also be mounted on a tripod.

Figure 1-4 How to mount the WCAP onto a tripod
Connections and Controls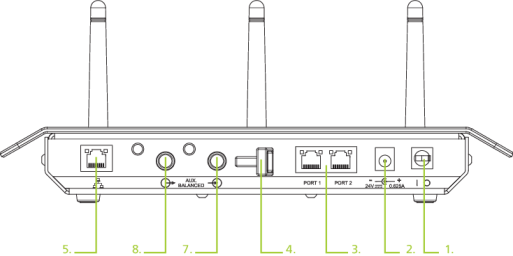 Figure 1-5 Confidea WCAP connections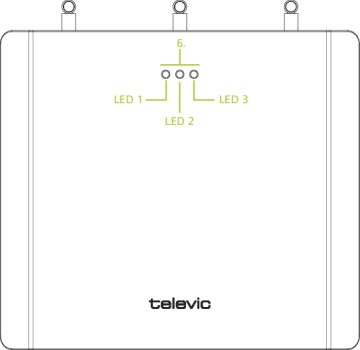 Figure 1-6 Confidea WCAP LEDs
Power Switch: The WCAP can be switched on/off with the power switch at the back of the WCAP.
Power Supply: The power supply of the WCAP is provided by a 110 - 230VAC/24VDC adaptor
Digital Bus Connection: Connection with the Plixus conference bus is done through RJ45 – connectors at the back of the WCAP
Cable retention clip: The cable retention clip is used to safeguard the cable of the power adaptor
LAN port: Through the LAN connector at the back of the WCAP, a PC can be connected using a standard cat 5e FTP network cable.
Status LEDs: See below for detailed info on LED status
Aux input: Auxiliary balanced input connector
Aux output: Auxiliary balanced output connector
Specifications of the ACDC adapter:
24V / 0.625A
DC power plug: outer diameter: 5.5mm
Inner diameter: 2.1mm
Polarity:
LED Meaning
| LED 1 | LED 2 | LED 3 | Description |
| --- | --- | --- | --- |
| White | | | Boot sequence started |
| Blinking red | | | Unitialized fallback mode |
| Fixed red | | | Initialized fallback mode |
| Blinking green | | | Unitialized application |
| Fixed green | | | Initialized application |
| | Blinking white | | Update in progress |
| Fixed green | | Fixed blue | Plixus coupling active |
| Fixed green | | Blinks blue | Plixus coupling active and initialization is open |
| Fixed green | Fixed pink | Fixed blue | Plixus coupling active, the WCAP has no associated Confidea G3 units (when more then 1 WCAP is coupled with Plixus) |
| Blinking red, green, blue | Blinking red, green, blue | Blinking red, green, blue | Test mode |
At startup, the transition from boot sequence started (blinking white led) to application mode started (blinking green) is very short and so the short red led activation in between might even not be noticed