Televic Conference Support

---
Recently viewed tickets
Log out
FAQ's
Video Tutorials
Software
Installation
Plixus
D-Cerno
IR
Tools
T-CAM
IP-CAM50
About Confidea Wireless G3
The Confidea Wireless G3 uses wireless technology to give you much more flexibility to set up your conference system. The basic system consists of the following elements:
The Confidea Wireless Conference Access Point (WCAP)(A), which acts as a mini central unit.
Combine this with multiple Wireless Delegate/Chairman Units (WDU)(B).
Using the provided audio inputs and outputs (C), connect to different audio systems such as a handheld (wireless) microphone, a room audio system, a video conferencing system, etc.
The access point has a built-in web server (E), which you can access from any desktop computer, laptop, tablet or smartphone. You can link the WCAP with the CoCon software to allow a more extensive configuration of specific features such as voting.
Link the Confidea system to a camera (F) using the LAN connection (D). You can find more information on how to configure this in the chapter Camera control.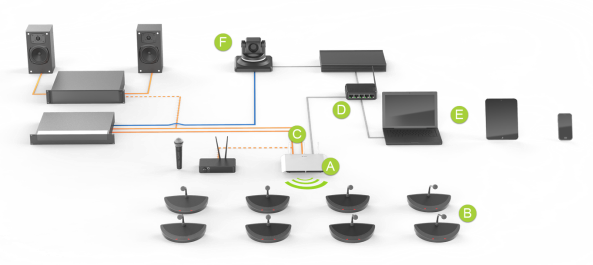 Figure 1-1 Confidea G3 setup